Contact Us:
Ph: (401) 885-4499
Fx: (401) 885-3188
osm26@ids.net


| | | |
| --- | --- | --- |
| | General Race Info | |
Race Start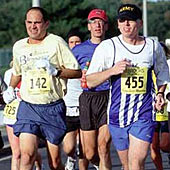 The race will begin at 7:55am directly in front of the State Capitol. For safety and insurance purposes, skates, rollerblades, strollers, and bicycles will not be allowed on the course.
ALL RUNNERS ARE CAUTIONED FROM RUNNING OUTSIDE OF THE CONED OFF RUNNERS LANE. POLICE AND RACE OFFICIALS ARE ALERTED TO WARN RUNNERS WHO STRAY OUT OF THE CONED LANE. RUNNERS WHO FAIL TO REMAIN IN THE RUNNERS' LANE WILL BE DISQUALIFIED.
Pace Requirements
In order to receive race services on the course, runners are expected to maintain a pace of at least 12 minutes per miles (5 hours 30 minute marathon). After that time, traffic restrictions will be lifted, water/aid stations will break down and runners will be responsible for their own safety and aid. The finish line will remain open until 6 ½ hours after the start, but runners on the course who exceed the minimum pace must defer to traffic and move to the side of the road or on sidewalks. For aid and assistance, there are many fire stations on the course at 3.2, 6.6, 9.1, 12.3, 16.9, and 24.8 miles, as well as numerous convenience stores and restaurants.
Crystal Springs/Ultima Stations


There will be 14 stations on course at miles 2.2, 4.4(P), 6.3, 8.2(P), 10.1, 12.05, 14.1(P), 16.5, 18.35(P), 20.45, 22.15(P), 23.9, 25.5 and one at the finish. Numbered water stations with a "P" will have a porta-let.
Medical
Medical aid stations will be available on the course at 8.9, 15.4, 19.5 and 24.5 miles, and a porta-let will be available at each one. Injured runners should seek help at a medical aid station or stop at a water station for fluids and to report their condition. Medical aid will also be set up in the lower lobby of the RI Convention Center just past the finish line. Thrifty Vans - In addition to an ambulance, which will follow the trail runners, support vans will patrol the course to pick up runners who have dropped out of the race.
Traffic Restrictions
In Providence, India Point Park will be closed to traffic, and many traffic restrictions will be in place from there to the finish, especially in the last mile. Motorists are advised to avoid the course, seek alternate routes, and allow sufficient travel time. The course map show various ways to access the course to watch the race and offer support to runners.
The Finish at the Convention Center
At the finish, you will receive a foil blanket and be directed to Championchip removal where helpers will assist in removing the chip and you will receive an OSM Medallion, liquids and light refreshments. You may then retrieve your bag at the BAGGAGE CLAIM area near the finish.
Post Race Refreshments
From street level take the escalator to Exhibit Hall D where post race refreshments will be served free of charge to runners with numbers, all others will be $6.00 each. Live entertainment will be provided and results will be posted.
Award Ceremony
The awards ceremony will be held at 2pm at the Westin Hotel adjacent to the convention center. Volunteers Needed-If you know of anyone not running and would like to volunteer, please contact OSM at (401)885-4499 or e-mail at osm26@ids.net.
Volunteers
The 2003 Ocean State Marathon needs the help of volunteers just like you to become the great event it is known as every year. To sign up to be a volunteer download the printable application and send it in.